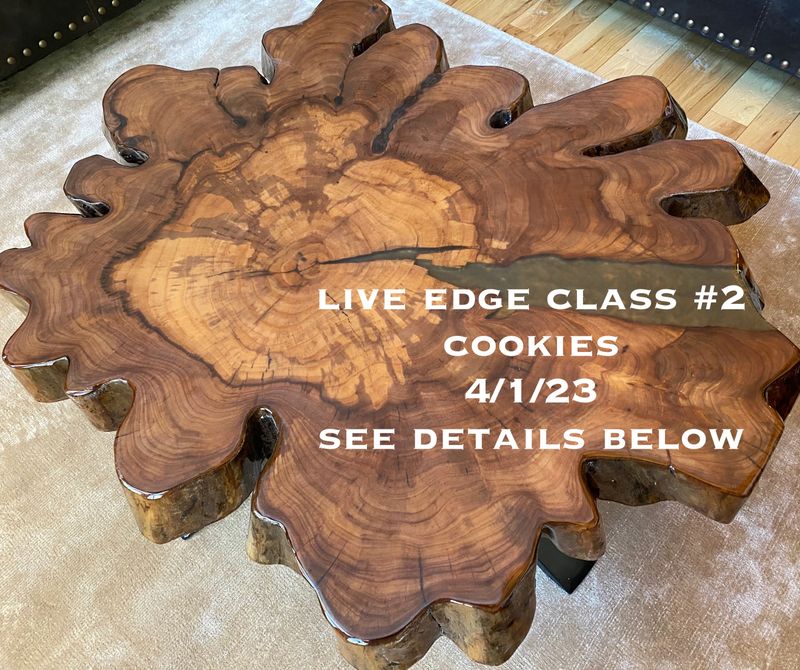 After countless inquiries, we are pleased to announce,
LIVE EDGE CLASS #2: Cookies
This will not be a typical shake and bake small cutting board with epoxy class. 
This is a hands on experience using tools that are top in the industry.
No Experience Necessary, 
We will walk you through every step of the process. The class will entail group and individual appointments. A detailed schedule will be provided upon sign up. 
This will be a rare opportunity to build a big project no less than 30x30", your own one of a kind cookie coffee table.
Class price- $1200 (base, epoxy and shop expenses are all included in this price)
The Cookie is not included, but we will be offering it at a super discounted rate. 
We are only comfortable using our own wood because we can stand by the quality and guarantee a good outcome in the projects that will be created during this class. 
We are doing a large scale project so the cost reflects the amount of time needed to get it done right.
If you are interested, here is what you will need to do next……
A $600 50% non refundable deposit is required to sign up, As availability is limited. Payment in full must be received before the first class on 4/1/23
You'll have to come into the shop to sign up and Introduce yourself. (Please bring ID)
There are only 7-10 spots available.
This is a Saturday, Sunday and evenings class.
All sign ups need to be registered by 3/31/23 
The class start date is 4/1/23.
You are more than welcome to bring your spouse or a family member. Must be 18 years or older.
This will be a memorable experience working with upgraded machinery, epoxy and a unique cookie to create a heirloom piece to pass down for years to come. 
Please message me with any questions though to contact page. If you are a local in the Las Vegas area and want to sign up please follow to link below
https://reclaimedsecrets.com/products/live-edge-class

Reclaimed Secrets
2912 SOUTH HIGHLAND DR SUITE F LAS VEGAS NV 89109